Private Sale Adventcalendar
For all those looking for a suitable Christmas present for themselves or others ...
Automobilia Ladenburg Advent Calendar ... from Dec 1 until Dec 24, between 4 and 24 items are offered for direct sale every day.
On the 6th of December, we will give away all 14 articles that will be put online on this day. The items will be raffled among the interested parties.
We wish you a nice and contemplative pre-Christmas time!
Open Private Sale Adventcalendar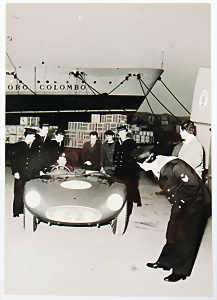 Autumn Auction 2018 - Post Auction Sale
November 16 & 17, 2018
Autumn auction with three catalogs: Automobilia catalog, Special catalog "Alfa Romeo Collection Stefano d`Amico"and Special catalog "Italian Only"
Thank you very much for participating and your great interest in our Autumn auction!
You find the results and the post auction sale of the auction in our online catalogs.

The results and the post auction sale will be updated daily.

In the post auction sale you can buy the items for limitprice + premium and VAT on premium.

Post auction sale requests will be processed in the order that we received it!

You can filter the catalog, bookmarks and search results by post auction sale or auction results.

Kontakt:
0049 (0) 6203 95 77 77
,
info@automobilia-ladenburg.de
or
Contact form
Auction catalogs
Catalog overview
Some Highlights of the Auction
Bidder form
Catalog order Form
Events were you can meet us
April 10-14, 2019
Techno-Classica Essen
Auction dates 2019
January 11-27, 2019
Online Auction January 2019
May 3 & 4, 2019
Auction May 2019
July 5-21, 2019
Online Auction July 2019
September 13-29, 2019
Online Auction September 2019
November 8 & 9, 2019
Auction November 2019
Nov 29 - Dec 15, 2019
Christmas Auction 2019